Every phase of the farm to fork process is controlled by veterinarians and professionals from our quality department to ensure our hens provide the best fresh eggs and egg products.
We conduct quality analyses in every phase of the process, beginning with the feeding of our laying hens: We manufacture the feed they eat eat and we monitor multiple quality standards such as the composition of the eggs we market, for example.
Our eggs are collected on a daily basis from our farms located less than 25 km from the sorting and packaging warehouse in Cabanillas del Campo (Guadalajara).
Our traceability system enables us to keep permanent track of the barn of origin and the date on which DAGU eggs are laid: Once sorted by weight, each egg is marked with the corresponding farm code and carefully packaged to ensure safe transportation.
We have also decided to acquire the safest and most environmentally friendly packaging system there is, which is due to arrive on the market in the first quarter of 2021.
Pre-packed eggs leave DAGU in trucks on a daily basis, meticulously packaged to ensure they remain firmly in place and are kept at the right temperature. The eggs are available at stores within 24 hours: fresh and in perfect condition.
"Farm to fork" traceability to guarantee total control of quality and food safety throughout the process: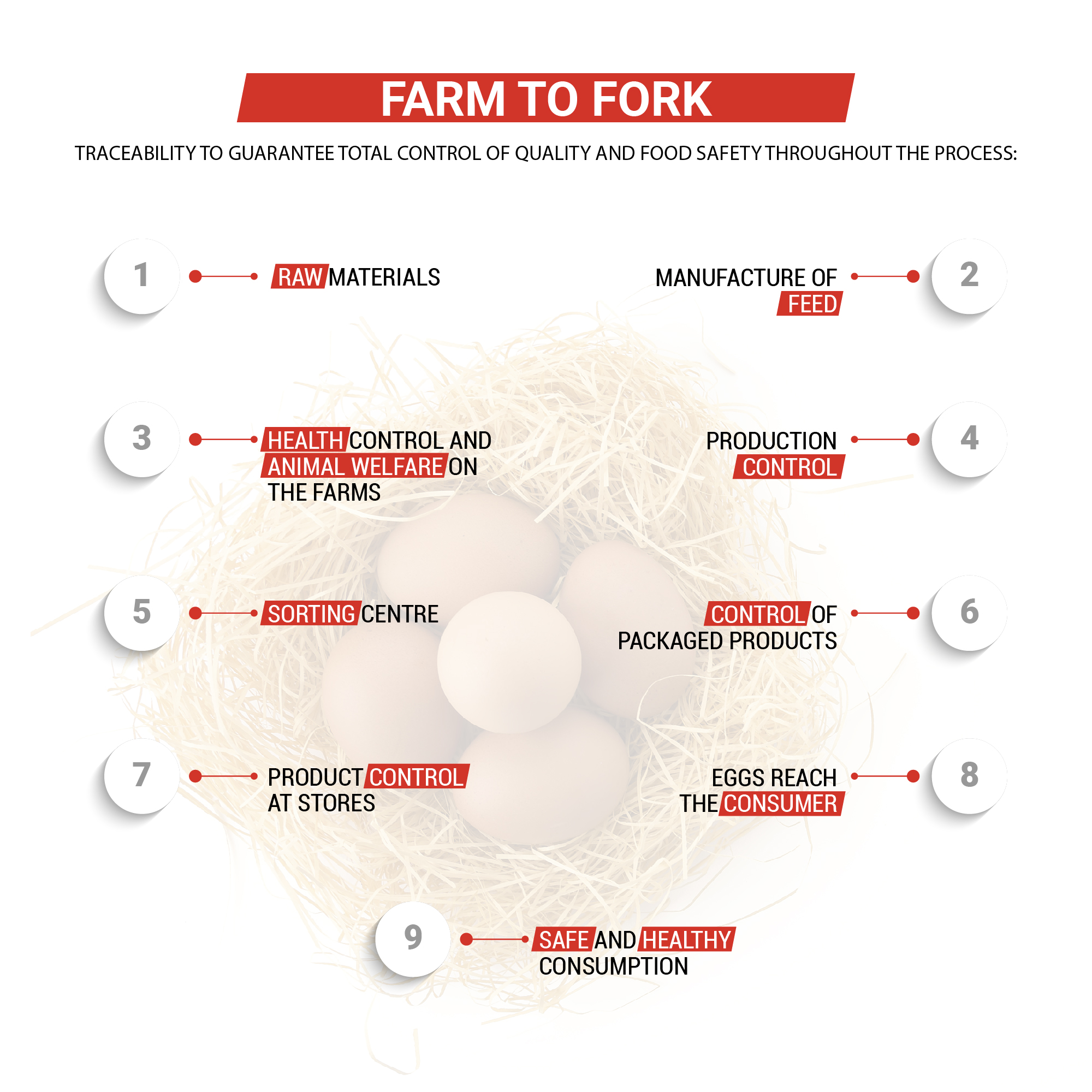 The DAGU Quality Control laboratory is a highly specialised department designed to promote the healthy condition of our birds and the food safety of all our products. It guarantees that we meet the highest EU production standards, thereby ensuring the quality and safety of DAGU eggs and egg products.
The laboratory also serves other companies, is IFS and FSSC22000 certified and consists of 4 departments:
Our laboratory has been certified by ENAC to conduct all the controls established in the National Plan for the Control and Prevention of Salmonella. The Laboratory works in close collaboration with the veterinary team as a means of guaranteeing animal welfare, appropriate hygiene-health conditions and sanitary controlled food and water. Healthy animals will provide us with healthy eggs.
For more information on the laboratory's services, contact dagu@dagu.es